What an eyesore!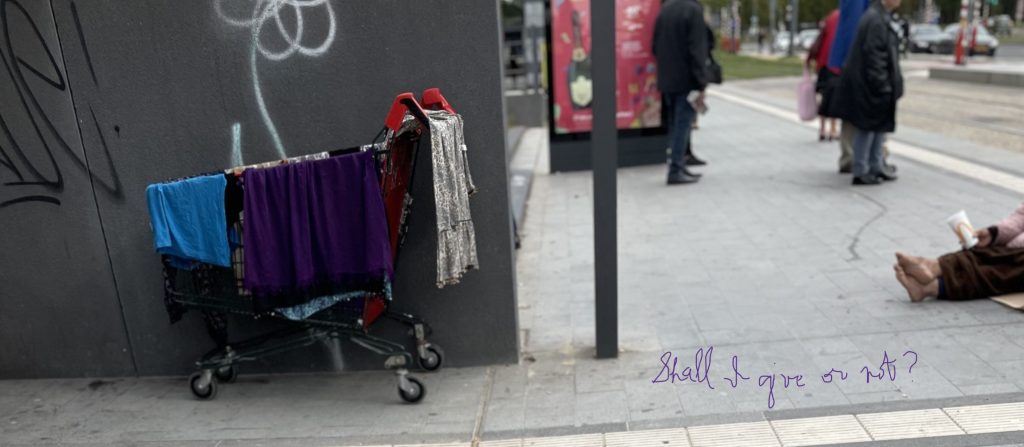 It's an eyesore seeing the desperation of the most vulnerable people in our society begging. Studies show there is a connection between begging and homelessness.
On my way to work, I often notice beggars, also known as panhandlers. They are at the tram station in a business district in one of the wealthiest countries in the world. Isn't begging illegal? Why do some people give to beggars and many don't?
Begging is prohibited or restricted in many countries. For example, each state and territory in Australia has specific laws regarding begging and panhandling. It's illegal in Victoria, South Australia, Northern Territory, Queensland, and Tasmania (but not in the Australian Capital Territory and Western Australia).
Begging is not illegal in most EU countries. However, the European Court on Human Rights declared that a ban on begging violated the person's right to private and family life in one of its cases. It did not state that begging should be decriminalised, which was wise. Criminalising it can negatively affect the vulnerable, raising ethical, legal, and social concerns.
In Luxembourg, where I work, begging is permitted in the city centre, main train station "Gare" and its neighbourhood, and suburb of Bonnevoie between 7 AM and 10 PM. This ban prohibits people from asking for money but allows them to sit on the ground. The business district of Kirchberg is not on the list; that's why – as you can see in the photo, the individual is sitting on the ground, begging, and drying her laundry on a shopping trolley.
I have seen people giving money to beggars, but I don't because I'm uncertain what they might do with it. Will I be aiding and abetting the cycle of abuse or addiction to alcohol, cigarettes, and drugs? Are they begging for themselves, or are they forced to do so by others?
Do you give to beggars? Don't you think the more we give, the more we make begging lucrative and devalue the day's hard-earned money? If imprisonment, fines, and community-based orders don't stop begging, what will work?